Posted by MIKE BELLM on 9/6/2023 to
News
.300 SAVAGE ACKLEY IMPROVED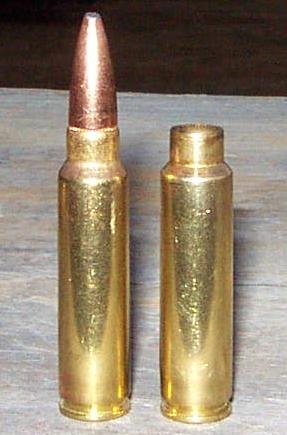 .300 Savage Ackley Improved as a Contender Round.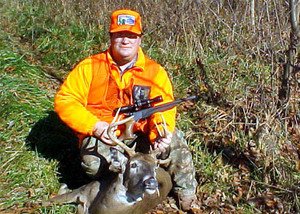 Conceived of primarily for the shooter who wants custom cartridge performance but does not reload.

.300 Savage standard factory ammo fired in the improved chamber duplicates .308 JDJ, .308 Bellm, and .30 Alaskan ballistics..... all with off the shelf factory ammo!

Straightening out the chamber body and blowing the case shoulder out to 40 degrees has proven to make off the shelf factory .300 Savage ammo in the Contender highly viable. It gives custom .30 cal. performance for the guy who does not reload. Accuracy with factory ammo has been outstanding.
I also cut the chambers with a rim counterbore which gives the guy who does reload the option of making cases from either .307 Win. or .444 Marlin for a rimmed version as well. Set up this way, the user can always just grab a box of factory .300 Savage ammo and go shoot if he does not have time to load his own

Note that for those who shoot primarily their own handloads, I would strongly recommend .30 Alaskan or .308 Bellm for their thicker, stronger brass that lasts longer and also takes more of the pressure load off the frame.

"J.V.D." opted to use .444 Marlin brass as the foundation for his .300 Savage Imp. Here is his report:

I had you make me one of the 300 Savage Imp for the Contender last Summer. It is marked # 3. I also sent you the trigger group out of my Fox Ridge flat-side frame which is the one in the photo also with the "Big Shot" grip that I worked on to fit better.
I use an 16" carbine forend that I took to the mill and opened it up so it is free floating. The only contact is where the forend screw holes are. Maybe 3/8" total contact on the entire barrel.

I am shooting Hornady 125 bullets over IMR4895. This barrel is a VERY nice shooter. At 100 yards with the 2-7x32mm scope I can shoot 5 shots around 1/2" groups and at 200 I shot a 3 shot group just under 1". I made the brass out of 444 Marlin cases which I like now that they are made for easy grabbing with gloved fingers. It takes a bit to make them but I think that they will last a good long time too.

Attached is a photo of the 9 point that I killed out in Indiana last weekend with this barrel. The shot was just over 100 yards. I placed the shot high in the shoulder and he did not take one step. He went down like a rock !! My brother shot one in the same spot at about 80 yards with a slug and it ran 75 yards before crashing.

Thanks for am awesome rig and hope to get more from you. It is just too bad that here in Iowa where I live we only can use straight wall cases in the handguns. I have almost depleted my choices to use now without using the same barrel to take more.

Best regards and keep up the good work !!

End of message......

Footnote to his message: I had some barrels ready to chamber and gave folks a choice of chambers. Normally I do not take custom orders for barrels. Choice of chamber or other final details I can sometimes entertain.

Barrels to Rechamber to .300 Savage Imp.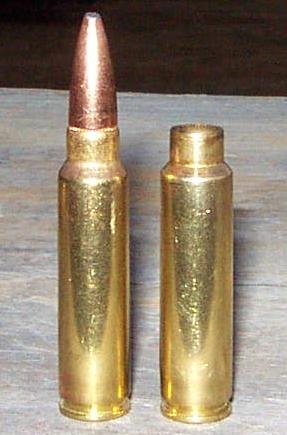 .300 Savage and .300 Savage Imp. side by side. Photo courtesy of Staunton River Outfitters.
Since the .300 Savage case is shorter than .30/30 length, one must start with a shorter chamber like .30 Herrett, .300 Whisper, or any of the smaller chambers like .32-20, 30 Carbine, .32 H&R; Mag.
Both TC factory barrels and quality after market custom barrels can be rechambered for this round so long as the barrel lug is of the later vintage with the step on the bottom of the barrel lug. Earliest barrels, both factory and custom, had flat bottom barrel lugs that lack the strength to resist bending the lower lip of the lug down due to the forces of higher intensity rounds like this.
There have been a few custom barrels made in 7.62x39 Russian that would also be candidates.
Because of the capacity of the .300 Savage Imp. case, I will not chamber it in barrels an shorter than 14" or the 14" Hunter barrels with factory muzzle brake. The latter barrels have less than an effective 14" of barrel length and are the minimum length recommended for this round.

While the original purpose of the experimental .300 Savage Imp. barrels was to provide custom cartridge performance for the non-reloader, it nonetheless offers a lot of potential for those who reload as well.

The main advantages are the well balanced case capacity for .30 cal. in the Contender and the option of using very strong, durable rimmed cases made from .307 Win. and .444 Marlin. .356 Win. necked down works also, of course.