Posted by KURT BELLM on 9/6/2023 to
News
BELLM TCs Encore G2 Trigger Springs Explained
TC Encore Custom Trigger Springs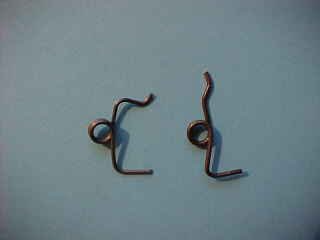 Bellm Custom Encore/G2 Trigger/Sear Springs are our own custom design with a different shape from the stock spring pictured on the right. The top arm on our spring shown left is shaped to give more travel to the sear to help insure it rebounds to "half cock" when your finger is removed from the trigger, which is absolutely essential for safe operation of the Encore. If the hammer does not rebound to half cock, it can rest on the firing pin permitting the gun to fire if it is dropped or struck on the hammer. The shape of our spring is especially needed at lighter pull weights using the lighter weight springs offered here.

Encore/G2 Trigger/Sear Springs are offered as various assortments at a reduced price per spring or as individual springs at $6.95 each.

We have picked the most popular assortments, but if you want a different combination of springs, please email me.

Why an assortment of springs instead of just one spring for the weight I want? The reason is two fold. One, the same spring installed in different frames will give different pull weights depending on the component parts in the individual frame. THE WEIGHTS INDICATED ARE ONLY ROUGH, COMPARATIVE APPROXIMATIONS. Two, while you can alter the sear angle and thus alter the pull weight, there is a limit as to how far you can go, and this type of work is often beyond the scope of abilities of the average shooter/hobbyist. Having a range of spring tensions makes the job much easier to do and as a third reason, it lets you quickly change the pull weight when shooting conditions require it.

Even doing trigger jobs professionally, I rely heavily on the range of spring tensions to get the pull weight the owner specifies. Once I have things honed, I select the spring I think will give the weight wanted. If it does not produce the desired pull weight, I simply install another spring. There is approximately a 1/2 pound difference in pull weight from one spring tension to the next in the same frame. Thus if a 2 pound pull is wanted and I am getting a 2 1/2 pound pull with a #3 spring, I replace it with a #4 to drop the pull weight a half pound. This system works very nicely and makes doing a trigger job much, much easier for the average individual and professional alike. Thus, I suggest you bracket the pull weight you want with a 3 spring assortment with one spring heavier and one spring lighter than what you want for a final pull weight.

What do you do with the extra springs? I suggest you help a buddy out with his frame for starters, but even if you never use the extra springs, using a 3 spring assortment as an example, your cost for the springs is less than 1/2 of what a basic trigger job by a qualified professional normally costs, especially if you have to ship it. And of course, if you are a professional, you realize the benefit of having the right supplies on hand when the next job comes in!

Please note that these are custom springs. They are shaped differently from the standard factory springs to give a more positive effect rebounding the hammer.

You will find there is a wonderful trigger pull hiding in the Encore frames, and the Bellm Custom Encore Trigger/Sear Springs are essential to your best shooting.

(Go to the menu bar to the left and click on either of the drop down options under TC Encore Custom Trigger Springs.)

#1 for 3 1/2 - 4 pound pull, .041"
#2 for 3 - 3 1/2 pound pull, .039"
#3 for 2 1/2 - 3 pound pull, .037"
#4 for 2 - 2 1/2 pound pull, .035"
#5 for 1 1/2 - 2 pound pull, .033"
#6 for 1 - 1 1/2 pound pull, .031"
#7 for fine tuning to the lightest pull weight advisable, .029"

NOTE: SPRINGS #4 THROUGH #7 USUALLY REQUIRE ALTERING THE SEAR NOTCH BY ABOUT 10 DEGREES TO APPROXIMATELY AN 80 DEGREE ANGLE USING THE 80 DEGREE DIAMOND EZE LAP SEAR HONE FOR THE HAMMER TO STAY COCKED, THEN POLISHING WITH 80 DEGREE POLISHING STONE.