Posted by KURT BELLM on 9/6/2023 to
News
CVA PARAMOUNT
At the beginning of this year, CVA revealed its new muzzle-loading rifle the Paramount Muzzleloader. For those familiar with CVA products or muzzleloaders in general, you may say that the Paramount looks nothing like a CVA product or muzzleloader for that matter.


The Paramount is a .45 caliber bolt-action rifle designed for super-magnum propellant charges providing the velocity for kill shots at 300 years or more.
The .45 caliber is different from the usual .50 caliber. Changing the caliber allowed CVA to produce the same muzzle velocity with much less recoil than you would get with a .50 caliber. The free-floating 26" Bergara barrel is made of 416-grade stainless steel, treated with nitride, ensuring the barrel will never rust. The Paramount ignition system is the VariFlame Breech Plug which carries a large rifle primer.
The new PowerBelt ELR bullets weigh in the same as previous generations but have a higher ballistic coefficient. Even though it is launching at the same muzzle velocity as a .50 caliber it is going to drop substantially less at 250, 300 yards, and beyond. The blueprint of the action is that of a Remington 700 short action, so finding scopes to fit the Paramount come a dime a dozen. It has a bolt action system that easily comes apart making cleaning a breeze. The stock is fully adjustable by allowing you to add or remove rubber padding for an adjustable length of pull and an adjustable cheekpiece.
Under the floor plate, you have storage space for 4 primed VariFlame plugs. Since the barrel is free-floating the field rod cannot go under the barrel, leading CVA to create a collapsible ramrod that comes in a molle pouch. Flush cup attachment ports on either side of the rifle and a stand sling swivel studs for conventional sling attachment and or bipod attachment.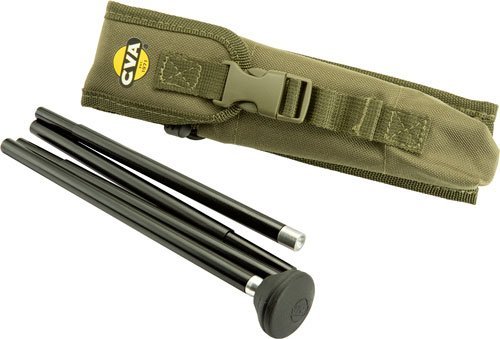 if you are in the market for a muzzleloader with a long-range, then the CVA Paramount is the perfect rifle for you. The Paramount also comes with a lifetime warranty so you never have to worry about anything going wrong with your rifle.